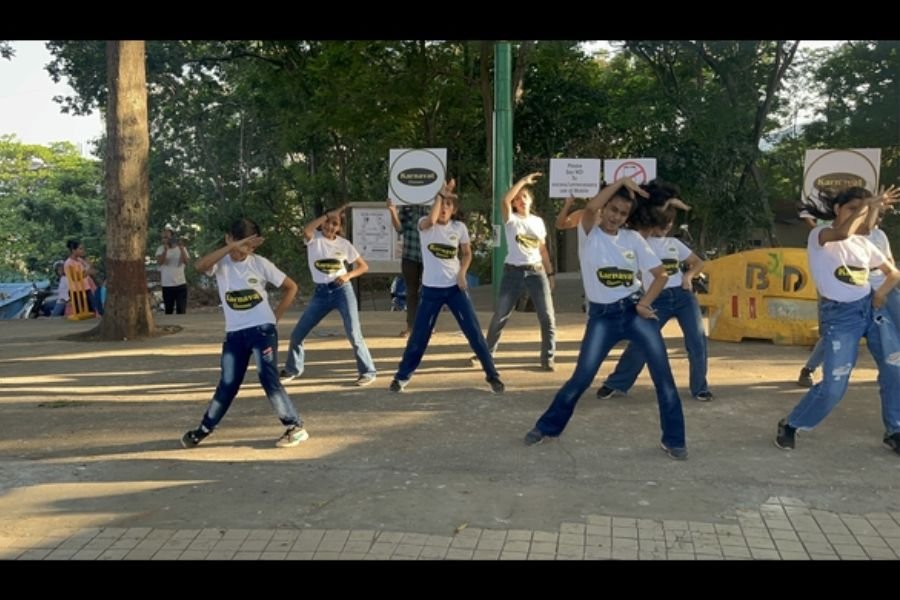 Karnavat Classes Raises Awareness on Indian Adolescent Mobile Addiction
New Delhi (India), May 16: Karnavat Classes, a 46-year-old commerce career coaching institute based in Thane, has launched a unique campaign called "NO MOBILE, GO MOBILE" to raise awareness on mobile addiction among Indian adolescents. The campaign includes street plays and flash mob dance performances that aim to highlight the negative effects of excessive mobile phone usage on the physical and mental health of young people.
Through this campaign, they intend to reach out to at least 50,000 young people through a series of 25 performances in the Thane-Badlapur region of the Mumbai Metropolitan Region (MMR). The campaign aims to raise awareness about the harmful effects of excessive mobile phone usage, such as teen tendonitis, stress, anxiety, depression, loss of sleep leading to tiredness, and accidents caused by distractions while driving, riding, or crossing roads. By educating young people about the potential dangers of mobile addiction, Karnavat Classes hopes to encourage them to develop healthier social habits and build a more balanced relationship with technology.
According to the Pew Research Centre, a study on teenagers' mobile phone usage indicates some of its negative effects on their physical and mental health. Around 88% of Indian adolescents have mobile access, which goes largely unchecked. The impact of mobile phones on youth and society is far-reaching. To gain the urgent attention of parents and teenagers in Karnavat Classes, the institute has adopted an "edutainment" style of street play and flash mob dance performances to spread the message of a healthy balance in using mobile phones and social media habits.
Chief Mentor, Mr. Sachin Karnavat, expressing his concern, said, "As educational institutes deeply involved with student academic development, we are increasingly observing disturbing behaviours such as lack of attention, unrealistic expectations from self and peers, and their effect on academic performance and career planning. This prompted us to reach as many youths as possible and gain their attention in ways they would listen to us! In my recent interaction with students last week, some of them confessed that mobile addiction is their weakness.
The street play presents a conversation between an elderly person and a child on how their childhood days were beautiful and fun-filled due to the different games they played like obstacle jumping, Vitti dandu, pushing the wheels with sticks (charka), lagori, and hide and seek. The grandfather is shown reminiscing and guiding his grandson about these games, not only helping them to remain active but also helping them make great friends along the way. The play and dance performance motivates youth to remain active and make real friends, not virtual friends, to develop healthy social belongingness, relationships, and overall well-being.
The performance grabbed the attention of a teenage parent, Mrs. Nikita Chandankar, a Thane resident, who was passing by on the Panchpakhadi. She expressed her gratitude and the need for such initiatives to be conducted by education institutes to educate students and parents about the increasing menace of mobile addiction at home.
As India is about to become the most populous country in the world, it is also uniquely poised to have for the next 25 years to be the most productive population from the age of 18 to 55 across the world. This allows us to become one of the most powerful economies globally. This, however, can only happen if our youth are skilled and healthy, both physically and mentally.
Over 2,00,000 alumni passed out and developed their careers in the business world successfully as CAs, Cost Accountants, Company Secretaries, Analysts, and Management graduates, making Karnavat Classes one of the oldest coaching institutes in Mumbai MMR. Established in 1977, the founders have contributed to authoring 18 books for various publications and government education departments in commerce subjects such as Organisation of Commerce, Secretarial Practice, Export Management, and HRM.
For more information, please visit: https://karnavatclasses.com/
If you have any objection to this press release content, kindly contact pr.error.rectification[at]gmail.com to notify us. We will respond and rectify the situation in the next 24 hours.